Deep Oiling: I like to do a deep oil treatment once every 2 weeks or so. I soak my hair in either extra virgin olive oil or coconut oil for at least an hour, sometime for several hours. About an hour before I wash, I put conditioner on my dry, oiled hair, bun it up, and leave it until I wash. This ensures that the excess oil comes out. Because oil and water don't mix, it's best to add the conditioner first, rather than wetting the hair and trying to shampoo it out.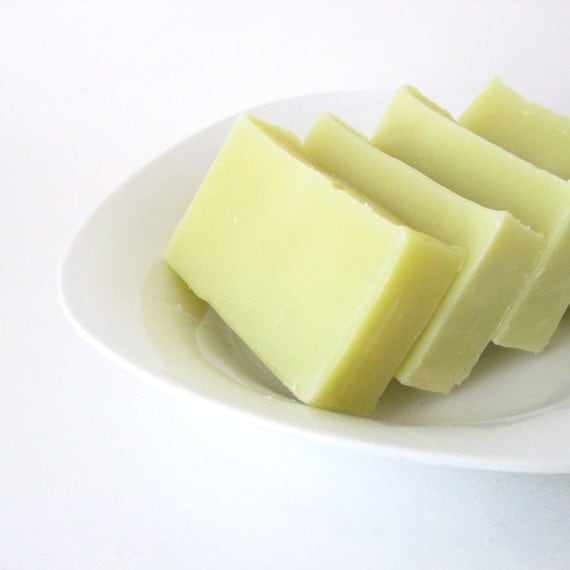 I bought this bar sort of by accident. I was looking for a mild facial cleansing bar, containing skin-soothing ingredients like coconut oil, olive oil, shea butter, and vitamin E. DressGreen makes many kinds of soaps, including ones for your face, but I accidentally bought the one made for body skin. Oh well, no big loss - I'm a bit of a handmade soap junkie so I was excited to try it out nonetheless.
PROS:
1. Beautiful packaging. DressGreen's owner, Lauren, has a background in product design, which really shows.
2. More moisturizing than any handmade soap I've tried (and, as you know, I'm a Lush customer, so that's saying something). My skin feels really happy.
3. A really lovely, subtle smell. There are no extra fragrances added to this soap (hence "undressed"), so I think the scent must come from the cocoa butter or almond oil.
4. Lathers pretty damn well for a handmade soap. My last body soap was Lush Candy Cane, which hardly lathers at all.
5. Does what soap is supposed to do, of course. I'm clean!
6. The bar is a great big size, bigger than the drugstore bars my family buys. This will last me months, I'd guess.
CONS:
1. When I first rinsed it off, my skin felt a bit tight and "squeaky clean," which is what happens with every other soap. At first I was pretty disappointed, because I thought this meant UnDressed was just as drying as other soaps. Luckily, this effect wore off in a few minutes' time. (I don't use a body moisturizer - maybe I should?)
2. Like all handmade soaps, UnDressed needs to be kept out of water - it can't be left in standing water, nor can it be left in a place where the stream of shower/bath water will hit it, as moisture significantly diminishes the shelf life of handmade soaps. Not a big deal if you're used to this procedure (especially if you have a draining soap dish!) but maybe kind of annoying for some people.
Overall: UnDressed might be my favorite handmade soap I've tried. Definitely recommended to anyone who's looking for a more natural, less irritating substitute for Ivory or Dove or what have you.
You can buy UnDressed at DressGreen's Etsy shop or on their website.
1. Lush Angels on Bare Skin facial cleanser
I needed a cleanser that was scrubby, but not drying. After spending much time poring over the Lush website, I chose this one. It has a soft clay-like texture and comes in a little plastic tub. The ground almonds exfoliate, while the clay soaks up excess oil. It has a lovely herbal smell and cleanses my combination-to-dry skin very well.
2. Lush Celestial moisturizer
Celestial is a whipped moisturizer full of skin-nourishing ingredients, like almond oil and cocoa butter. All you need is a little pea-sized amount, spread over a damp face, to do the trick. It has saved my dried-out winter skin!
3. L'Oreal Lineur Intense liquid eyeliner w/ brush tip
Best liquid eyeliner ever. I've been using this stuff almost every day since I was in the eighth grade - I think I've gone through about 5 bottles at this point. It's smooth, creamy, and goes on really black. The only downside is that it's not waterproof, so I've cried it off a few times. If I think I'm going to be crying, I use a different liner.
4. Unrefined coconut oil
That picture isn't the brand I use, as I think the kind I use is just the "house brand" of my local health food shop. Most virgin coconut oils are pretty similar though. I use this oil as an eye cream and a lip balm now, but I've used it as a facial moisturizer off-and-on for years and it works very well for that. It certainly takes some adjusting to get used to the feeling of oil on your skin, but once you accept that it's not clogging your pores and it's actually doing a lot of good, it just feels nice. I used to put some on after washing at night and then just wipe off the excess in the morning.
5. Lush Mask of Magnaminty face mask
I stopped buying this mask because it was a little out of my price range, but I haven't been able to find one I like as much. I use Queen Helene's Mint Julep Masque these days, and I've tried various other clay masks in the past, but they just don't have the scrubbiness/exfoliation factor that MoM does.
6. MAC Russian Red matte lipstick
Will there ever be a better matte red lipstick? I severely doubt it.
7. Colgate Total toothpaste
This is the toothpaste I use on my teeth, yes, but I also use a little bit on acne spots when they come up. It works surprisingly well for this purpose.
8. Vanilla mint Chapstick
I bought this on a whim and it has such a nice scent, and is very moisturizing. My other favorite lip balms are berry-flavored Blistex and anything by Burt's Bees.
9. MAC Liquidlast liquid liner in Herizon Blue
My mom bought this for me at the MAC counter when she saw me staring at it like a hungry wolf. I am so glad she did. About half my clothes are royal blue, so it's obviously necessary for me to own an eyeliner to match. This stuff is ridiculously waterproof and very brightly colored - the perfect complement to any of my crazy blue-from-head-to-toe outfits, or just as a little accent on a simple outfit.
10. Garnier Fresh eye makeup remover
I'm on my second bottle of this. It's formulated for sensitive eyes, meaning it has the same pH balance as tears and never stings or reddens. I put some on a cotton ball, hold it against my eyelid for a few moments, and then wipe away all my makeup.