I'm still selling a bunch of awesome stuff at my Etsy shop. Vintage dresses, shoes, etc.!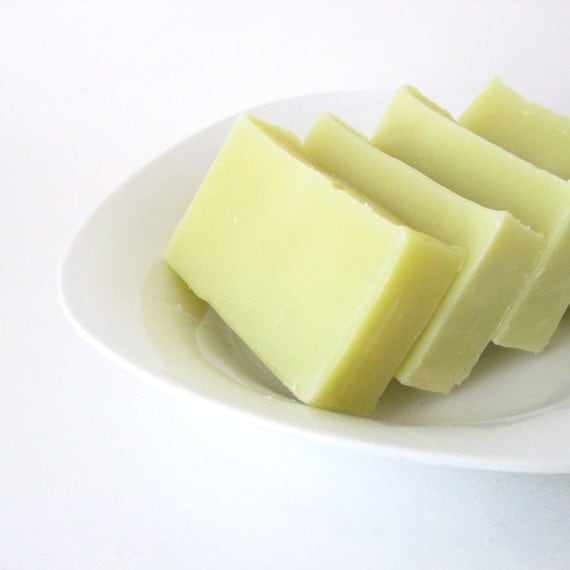 I bought this bar sort of by accident. I was looking for a mild facial cleansing bar, containing skin-soothing ingredients like coconut oil, olive oil, shea butter, and vitamin E. DressGreen makes many kinds of soaps, including ones for your face, but I accidentally bought the one made for body skin. Oh well, no big loss - I'm a bit of a handmade soap junkie so I was excited to try it out nonetheless.
PROS:
1. Beautiful packaging. DressGreen's owner, Lauren, has a background in product design, which really shows.
2. More moisturizing than any handmade soap I've tried (and, as you know, I'm a Lush customer, so that's saying something). My skin feels really happy.
3. A really lovely, subtle smell. There are no extra fragrances added to this soap (hence "undressed"), so I think the scent must come from the cocoa butter or almond oil.
4. Lathers pretty damn well for a handmade soap. My last body soap was Lush Candy Cane, which hardly lathers at all.
5. Does what soap is supposed to do, of course. I'm clean!
6. The bar is a great big size, bigger than the drugstore bars my family buys. This will last me months, I'd guess.
CONS:
1. When I first rinsed it off, my skin felt a bit tight and "squeaky clean," which is what happens with every other soap. At first I was pretty disappointed, because I thought this meant UnDressed was just as drying as other soaps. Luckily, this effect wore off in a few minutes' time. (I don't use a body moisturizer - maybe I should?)
2. Like all handmade soaps, UnDressed needs to be kept out of water - it can't be left in standing water, nor can it be left in a place where the stream of shower/bath water will hit it, as moisture significantly diminishes the shelf life of handmade soaps. Not a big deal if you're used to this procedure (especially if you have a draining soap dish!) but maybe kind of annoying for some people.
Overall: UnDressed might be my favorite handmade soap I've tried. Definitely recommended to anyone who's looking for a more natural, less irritating substitute for Ivory or Dove or what have you.
You can buy UnDressed at DressGreen's Etsy shop or on their website.